Purchase
 Add selected items to our convenient shopping cart:
Other Educational DVDs from Dr. DeRose
Invite award-winning lecturer and writer, Dr. David DeRose, to join you in your own living room or community center. His DVDs will provide new insights and motivation to live a truly healthy life.
=====================================================================
The Recently Released LifeStart Seminar DVD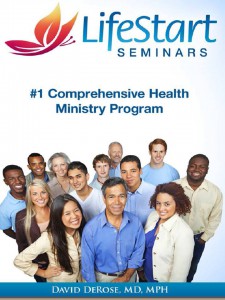 DVD – "The LifeStart Series."  Twelve, approximately 30-minute, programs make up this dynamic, cutting-edge series.  In each of the dozen programs, David DeRose, MD, MPH, tackles a major disease or condition, providing practical scientific insights into how to prevent or treat the malady—without expensive drugs or surgical procedures.
This series is great for workplaces, community centers, places of worship—or right in your own home. Use it to deliver a comprehensive weekly health emphasis series over the space of a quarter; or use one program per month for a year-long health focus. In fact some are calling the series, the "#1 Comprehensive Health Ministry Program" because of its ability to impact such a broad range of conditions and individuals.  The twelve programs in the series are entitled:
• Lose Weight Naturally
• Reverse Heart Disease Naturally
• Maximize Mental Performance Naturally
• Lower Hypertension Naturally
• Improve Lung Function Naturally
• Relieve Arthritis Naturally
• Overcome Addictions Naturally
• Prevent Osteoporosis Naturally
• Prevent Cancer Naturally
• Avoid Colds and Flus Naturally
• Reverse Diabetes Naturally
• Defeat Dementia Naturally
Purchase it now for $59.95!
Another Recently Released DVD Mini-Series: "The Brain Health Revolution"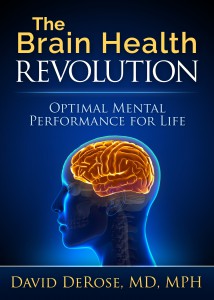 Modern neuroscience has unleashed nothing short of a revolution when it comes to naturally optimizing brain health.  In this two-part, approximately 2-hour long mini-series, Dr. DeRose walks you through some of the keys to enhancing brain performance without relying on drugs or expensive therapies.  Among the things you'll learn:
Simple lifestyle factors to boost your levels of the powerful "brain derived neurotrophic factor" (an agent documented to reduce risk of depression, stroke, Parkinson's and Alzheimer's disease)
Nutritional keys to enhancing brain levels of key neurotransmitters like dopamine and serotonin
The toll that environmental toxins can take on your brain—and what to do about it
Life-changing insights into how better dietary fat choices can improve your brain health
Get it today for $19.95!
=====================================================================
Another Cutting-Edge DVD Mini-Series Released by Dr. DeRose in 2015: "Longevity Plus"
Dr. DeRose's Recently-Released DVD Mini-Series: "Natural Strategies for Infectious Diseases: Halting Infectious Epidemics"
 
This newly-filmed, 2-part miniseries builds on Dr. DeRose's popular book, "Evading Ebola." Featuring nearly two hours of new material, DeRose provides strategies to help you keep well–even when it seems all those around you are getting sick. Whether dealing with the common cold, influenza, or more frightening infectious illnesses like Ebola or equine encephalitis, Dr. DeRose's simple strategies can truly spell the difference between sickness and health. DeRose shares insights into a variety of relevant, cutting-edge topics including fitness, dietary practices, vaccinations, beverage choices, and hygiene.
Get it today for $19.95!
========================================================================

DVD – "Reversing Hypertension Naturally" In this three-part, approximately 3-hour long series, David DeRose, MD, MPH provides scientifically-documented insights into controlling your blood pressure—at the same decreasing your dependence on medication. DeRose focuses on ten natural strategies including nutritional practices, dietary supplements, fitness recommendations, and environmental interventions. You'll learn which habits are blood pressure-lowering and which ones may be perpetuating your elevated readings. Award winning speaker and writer, Dr. David DeRose will truly inspire you to control or even reverse your blood pressure naturally!
Get it today for $26.95!
========================================================================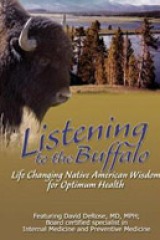 DVD – "Listening to the Buffalo" – Starting with the true story of an American Indian-raised homesteader who survived a buffalo stampede, Dr. DeRose takes a scientific look at the Native Americans who held bison in high esteem. You'll gain amazing insights into how modern science validates simple lifestyle strategies that can help prevent or treat diabetes and other lifestyle-related metabolic conditions. (Two presentations, approximately 30-min each; i.e., approx. 1 hour total run time.)
Get it today for $19.95!
========================================================================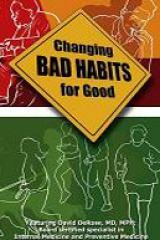 DVD – "Changing Bad Habits for Good" – If you know what you should be doing for your health but are having trouble translating that into practice, this DVD is for you. Finally master the dynamics of health behavior change in an engaging, practical way. You'll learn to develop new enjoyments, enjoying high quality living at the same time you shed unwanted habits. (Two presentations, approximately 30-min each; i.e., approx. 1 hour total run time.)
Get it today for $19.95!
========================================================================
DVD – "Reversing Diabetes Naturally" – This life-changing series unlocks the power of a non-drug approach for type 2 diabetes. Viewers will learn how to address the root cause of this disorder known as "insulin resistance" and much, much more. (Four presentations, approximately 1-hour each; i.e., approx. 4 hours total run time.)
Get it today for $39.95!
 ========================================================================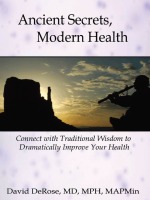 DVD – "Ancient Secrets, Modern Health" – The first one-hour presentation begins by revealing a commonly overlooked health truth; namely, that natural healing approaches employed by indigenous peoples often have sound evidence backing their use—regardless of whether or not their cosmologies are valued today. DeRose shows how we can take the best of cultural wisdom without endorsing historical misunderstandings. He then launches into a presentation on a natural healing agent that has been used across cultural lines—companion animals. Viewers will learn how pets can enhance health, but will also be exposed to cautions stemming from human-animal interactions. (If using this as a mini-series, Dr. DeRose recommends next showing "Listening to the Buffalo" and then using the final presentation on this DVD for your third meeting.) The second 1-hour presentation on this DVD brings participants into the court of Babylon as DeRose draws heavily from The Bible's Book of Daniel, chapter 1, where is found the world's first recorded clinical trial. (Two presentations, approximately 1-hour each; i.e., approx. 2 hours total run time.)
Get it today for $19.95!
========================================================================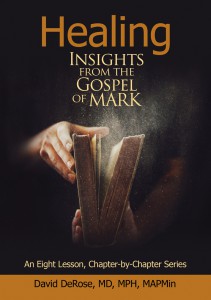 DVD – "Healing Insights from the Gospel of Mark" This series offers a great way to learn and reinforce health principles aided by one of the world's most esteemed spiritual books, The Bible.  Suitable for individual or group use, this series is designed to be viewed once weekly for eight weeks.  Each session is designed to begin with Dr. DeRose's 30-minute video and then conclude with a 30-minute group health-focused Bible study (aided by Dr. DeRose's free study guides).  Participants go through the entire 16 chapters of The Gospel of Mark over the course of the eight weeks. (Eight presentations, approximately 30-min each; i.e., approx. 4 hours total run time.)
Purchase it now for $39.95!
==================================================================================================
Dr. DeRose's Amazing Book (still relevant for all infectious diseases)
Evading Ebola: Decrease Your Risk of Infection, Fare Far Better If Exposed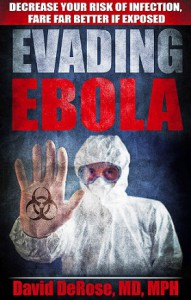 Book Description
Although Ebola may no longer seem to be a threat,  the untold story behind Ebola provides keys that could save your life from other infectious diseases. In "Evading Ebola," physician and public health expert, David DeRose, MD, MPH, provides some of the most encouraging, yet untold, information to date. Drawn from research on "inapparent" Ebola infection (Africans who got the virus but never got sick), DeRose outlines simple practical steps to help you avoid ever getting sick with Ebola (and a host of other infections)—even if exposed.  The book details research from infectious diseases as diverse as Ebola, food poisoning, colds and influenza.  Don't let the insights into Ebola cause you to miss the importance of this book to your overall health and well-being.
Get it today for $9.95!
========================================================================